By David Friedman, Founder/CEO
Lately, I've been getting more and more questions from companies who are practicing EOS (the Entrepreneurial Operating System) and are curious to understand how the Fundamentals System fits within that structure.  Here's the shortest answer to that question:  While EOS emphasizes the importance of culture, it's comparatively "light" when it comes to the actual mechanics for how to actually operationalize it down to the level of every team member.  As an alternative, what many companies do is simply "plug and play."  In other words, they practice EOS, but swap out the EOS culture portion and instead practice the Fundamentals System.  It's actually pretty seamless and incredibly effective.

A couple of years ago, I wrote a blog post with a fuller explanation of both programs and how they integrate.  Below is a reprint of that post.  I think you'll find it helpful.
Many of our clients are interested in, or are already using, the EOS approach to running their business, and many EOS companies are interested in, or are already using, the Fundamentals System™ to drive their culture.  So I thought it might be useful to help our readers understand the core ideas behind these approaches and how they interrelate.
What is EOS?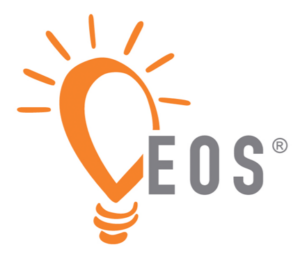 EOS (the Entrepreneurial Operating System) is a set of tools that help companies to get better results by instilling greater focus, discipline, and accountability in how they run their business.  The approach, developed by Gino Wickman, and outlined in his book, Traction, is simple, practical, and sustainable.
Wickman notes that every company should have an overall operating system that organizes everything necessary to achieve success.  Further, he suggests that an effective system must include six key components that make up every business:
Vision:  clarity about values, focus, direction, and strategy
People:  getting the right people working in the right jobs
Data:  tracking the most important metrics that drive success
Issues:  effectively prioritizing and working through issues that arise
Process:  documenting the core processes that drive the business
Traction:  creating the accountability necessary to achieve the goals
EOS creates a structured process, including lots of established tools, to address each of these components.  In short, he provides a simple recipe to follow to get control of your business.
What is the Fundamentals System?
Fundamentals System is a specific approach, including a set of easy-to-use tools, that helps companies to intentionally create and "institutionalize" a high performing culture.  The process, which was first outlined in my book, Fundamentally Different, is also incredibly simple, practical, and sustainable.
 The foundation of the Fundamentals System is the recognition that the culture in any organization has an enormous influence on how its people perform.  In fact, Peter Drucker, the legendary management guru, famously once said that "culture eats strategy for breakfast."  In other words, regardless of how good any strategy may be, the organization will only go as far as its culture will take it.  Further, many leaders suggest that, in our commoditized world, culture is actually the last remaining opportunity available to create a sustainable competitive advantage.
Understanding this, the Fundamentals System helps leaders become far more intentional and systematic in their approach to intentionally creating the culture they want to have.  The system is organized around an 8-step framework:
Define:  identifying the behaviors (Fundamentals) that drive success
Ritualize:  creating the habits that make practicing the Fundamentals last
Select:  choosing the right people who fit the culture
Integrate:  orchestrating the early experience to indoctrinate newcomers
Communicate:  making the culture visible throughout the workplace
Coach:  teaching and reinforcing the culture through daily feedback
Lead:  setting the example through leadership
Drive:  creating accountability for the culture throughout the organization
Much like EOS, the Fundamentals System includes a suite of tools, products, and training that make it easy to implement and sustain.  It provides the recipe for creating and institutionalizing a high performing culture.
How do the two relate?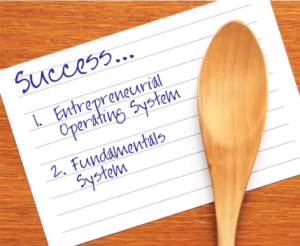 Both EOS and the Fundamentals System are structured, systematic approaches to business.  Both include a simple recipe and a host of tools that make implementation relatively easy.  Both provide what\'s necessary for long-term sustainability.  Where EOS provides a framework for running the overall business, the Fundamentals System focuses specifically on the culture component of organizations.
In EOS, culture is addressed in the Vision component.  The approach emphasizes the importance of defining your culture clearly, though it\'s mostly focused on articulating and using a small set of core values. The process for developing core values, and the method for sustaining focus on them, both fall far short of that which is built into the Fundamentals System.
For those practicing EOS, the Fundamentals System can easily be integrated into the Vision and People components to bring even greater clarity, traction, and sustainability to those components.
For those practicing the Fundamentals System, EOS can provide a similarly structured approach to gain control of the entire business process.
If you\'d like to learn more about how these two approaches can work together to enhance your success, click the button below.  Or, join us at our annual Culture Summit in October.